July 30, 2012
Each student gets to make their very own handcrafted paper sheet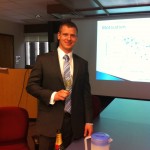 June 4, 2011
Dr. Luukkonen completes his PhD.

March 12, 2011
Congratulations to all of our students who presented this year!

March 12, 2011
UBC and Aikawa open the way for low consistency (LC) refining research
March 13, 2010
An advanced pulp screen rotor that halves power consumption while increasing the efficiency of pulp and paper mills has resulted from an innovative collaboration between the University of British Columbia (UBC) and several industrial partners.