The UBC pilot pressure screen is a small industrial pressure screen manufactured by GL & V / Beloit model MR8. The system is fully instrumented with computer controlled valves and pressure, several 8 inch diameter screen cylinders and industrial screen rotors. The pump and rotor are equipped with variable frequency drive to provide a wide range of operation (see below).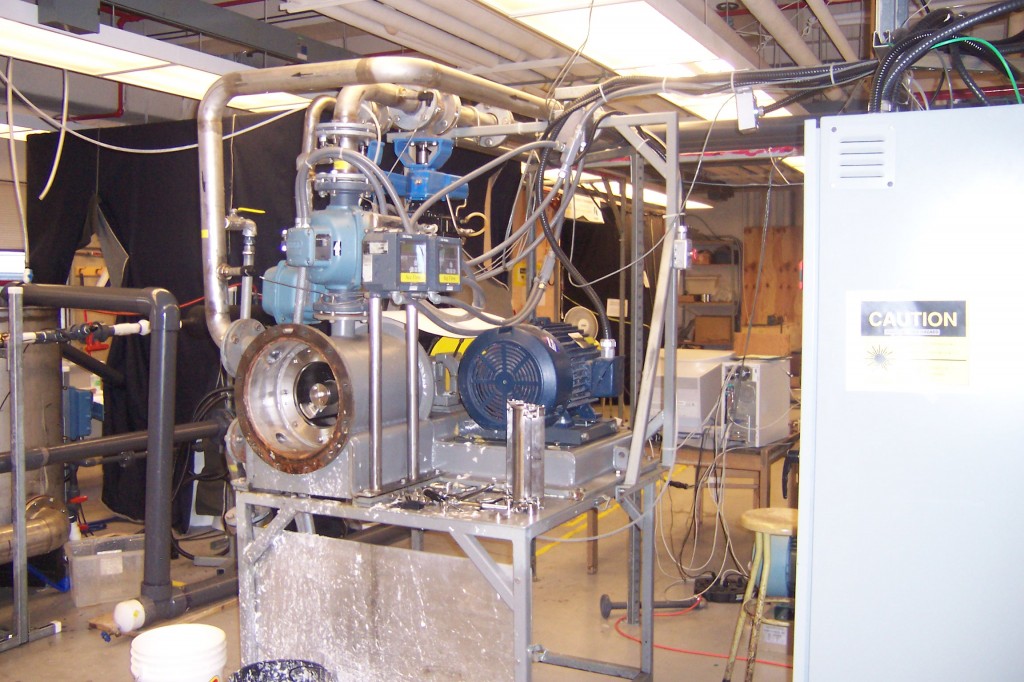 Schematic of MR8 flow loop, photo of flow loop (below right) and close up of AFT EP rotor and AFT MF screen cylinders (click on image for larger view).
The flow loop has pressure transducers (PT) at feed, accept and reject lines. Magnetic flow transmitters (FT) and pneumatic controlled valves are installed on the accept and reject lines. The control valves and flow meters are controlled by a process computer, which also records the volumetric flow and pressure information at each data point.
The screen is fed from a 1000 L feed tank. Accepts and the rejects stream are re-circulated back into the feed tank for continuous operation. The sampling valves are located at the top of the feed pulp tank. The MR-8 screen requires a minimum feed pressure of 172 kPa. Typical pressure drop in the screen is 20.7 – 41.4 kPa from feed to accept. Pressure drop from feed to reject is 6.9 – 20.7 kPa. Feed pressure is maintained by a centrifugal pump equipped with a variable frequency drive.
The rotor is driven by a variable frequency drive, VFD, to provide a wide range of rotor speeds. The VFD also provides accurate power measurement of the rotor. There are currently three rotors available for trials:
Beloit S-rotor

AFT EP rotor

AFT Multi-Element Foil rotor
Screen

cylinders available for trials include:
AFT MacroFlow Cylinders:
| | | | |
| --- | --- | --- | --- |
| Model | Contour Height (mm) | Wire Width (mm) | Slot Width (mm) |
| MF0623 | 0.6 | 2.3 | 0.10 |
| MF0623 | 0.6 | 2.3 | 0.15 |
| MF0326 | 0.3 | 2.6 | 0.15 |
| MF0632 | 0.6 | 3.2 | 0.15 |
| MF0932 | 0.9 | 3.2 | 0.15 |
| MF1232 | 1.2 | 3.2 | 0.15 |
Additional Cylinders:
1.0 mm diameter smooth holes

0.8

mm diameter smooth holes

0.5 mm diameter smooth holes


Electron Beam filter cylinder